Raw honey with wine and cheese platters are one of the easiest appetisers but yet some of the most impressive ones. They are flexible, elegant and delicious. You can put anything you like together, arrange it and serve it to your guests, and you've got yourself a platter. However, for best results, there are some simple rules that you can use to make your platter look and taste rather professional.
Whether you're preparing it for guests or a cosy night in with your partner, a cheese board can make regular food taste better. With its beautiful presentation, and all the vibrant colours put together, this appetizer will bring nothing else but joy and satisfaction to your palate. Even though it may sound a bit cliché, the phrase "You eat with your eyes first" makes perfect sense in this case.
How do we choose the right combination of raw honey with wine and cheese? – Base Rule –
Most food products, in fact, are generally consumed in specific social situations and especially in situations that involve combinations between different products. The combination, in turn, implies the phenomenon of interactions between different sensory stimuli such as taste-taste, taste-smell, olfactory-olfactory interactions. These interactions cause synergy, suppression or phenomena enhancement of the perceived intensity of the sensory properties of the same matched products. These are changes in the perception of sensory properties that have significant repercussions on the acceptability expressed by consumers which can vary, in terms of increase or decrease, depending on the appropriateness of the combination itself.(Firenze University Press,2018)
Wines influence the perception of the sensory properties of cheeses by increasing the perceived intensity of the overall flavour, bitterness, acid, salty and oiliness. Since wine acts as an enhancer of flavours we have to stick with the basic rule of choosing the wine and cheese and the cheese and honey :
Sour with Sour
Fatty with Round
Soft with Delicate
Lean with Light
Sweet with Sweet

The choice of honey has to be the opposite or far away in taste and aroma to create contrast with the cheese. The wine acts as a taste enhancer.
In order to make this easier for you we have prepared a series of basic combinations that will definitely make your aperitif a great success.
Acacia Honey with Williams Pears, Gorgonzola cheese and Walnuts paired with a young Riesling wine
Our favourite aperitif platter and wine selection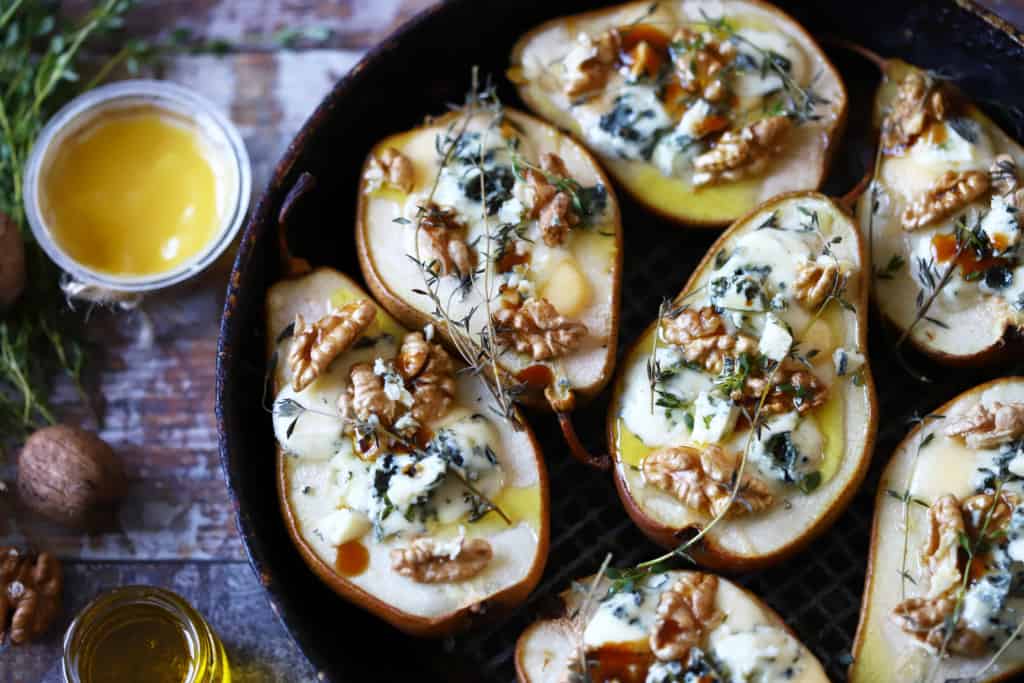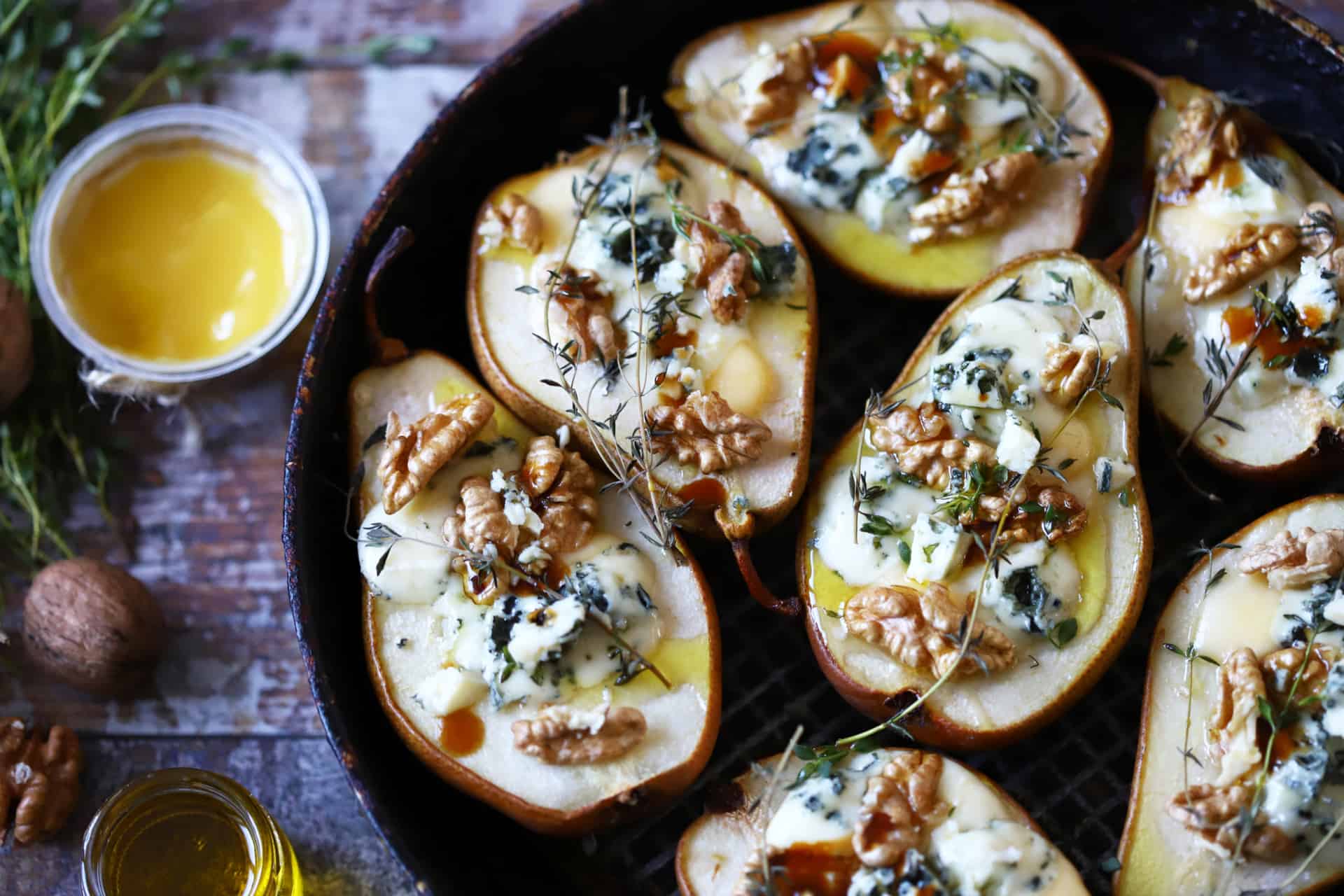 This recipe is one of our super favourites ! Its easy to prepare and cook and it's an absolute winner.
Preparation and execution 25 min approx.
Ingredients and quantities for 1 person:
1 Williams Pear
1 Walnut
1 teaspoon of Acacia Honey
20g of Gorgonzola Cheese
Salt and Pepper

Preparation:
wash the pears; cut them into half pieces and gently remove the seeds with a teaspoon. Pay particular attention to not break the pear and making a medium-sized hole.
preheat the over at 200° C.
place the pears in a tray for 15 min; when done take them out and let cool.
place a spoon of gorgonzola inside the pears.
break the walnuts into small pieces and add on top.
take a teaspoon of acacia honey and glaze the top and enjoy!
You can serve the pears as an aperitif with a plate of fresh grapes from the selected wine. For this particular dish, we suggest a lovely wine that will make your taste buds rejoice – Riesling is the perfect match- read more about it and other pairings in the wines section.
Did you know "Charcuterie" is a French term for a branch of cooking devoted to prepared meat products, such as bacon, ham, sausage, terrines, galantines, ballotines, pâtés, and confit, primarily from pork?
Technically, the word "Charcuterie" implies preparing meats such as bacon, salami, sausage and others. However, not every board needs to include meat, or at least not since the beginning of the feast. The contrast between raw honey and cheese combined with the appropriate wine pairing creates a taste that is so unique, and it's a culinary experience on its own. Therefore, our advice would be to introduce the meats later. You don't want your guests' palates to get bewildered by the strong taste of the meat.
After mastering the art of Charcuterie, here are two suggestions of our finest boards in two different price ranges. One of them is made of more affordable ingredients, but the other one is very appropriate for rather special occasions.
Affordable Aperitif for 4- Our Suggestion
For our first selection, we propose using our exquisite raw acacia honey paired with gorgonzola cheese. A good option is Waitrose's Gorgonzola Piccante. To enhance the flavour of the cheese, we suggest the Italian Amaranta Montepulciano d'Abruzzo which is a fine red wine. It can be ordered on viviono.com–£27.40–often on offer for £19.95.
Last but not least, to compliment the experience, add Waitrose Seedless Vitoria Grapes – £7.48/kg , and any type of nuts you like. Don't forget to add a bunch of crackers or a few slices of freshly baked bread for your guests to balance the lot.
This first recipe is perfect for a group of 4. Our suggested amounts are:
1 jar of HoneyBee&co Raw Acacia Honey
2 bottles of Amaranta Montepulciano d'Abruzzo
1 kilogram of red Vitoria grapes
250 grams of nuts of your choice
1 stone-baked bread or 600 grams of cheese crackers
Luxurious Aperitif for 4 – Our Selection
This recipe is more pricey, but the quality is impeccable and the taste is exquisite. Such a board would be the perfect appetizer for a tasting menu or a starter for an intimate special occasion.
Unlike in the first recipe, for this one the appropriate honey choice will be–Greek Pine Tree Honey.
The cheese we suggest for this platter is Brocciu cheese. Brocciu is a cheese that is notable as a substitute to the lactose-rich Ricotta cheese because it contains less lactose. Brocciu comes from the fourth largest island in the Mediterranean–Corsica and could be found at the price of £6.50 for 250g.
To boost the flavour of all ingredients, we advise you to match this cheese board with one of the best wines from Bolgheri Sassicaia, Italy–Tenuta San Guido Sassicaia 2011 sold for £295 by vivino.com.
To bring the fresh taste of summer, use Sangiovese Grapes for best results. These are fine Italian red grapes. However, if you can't get hold of them, any red grapes will do the job.
And just like in the previous one and pretty much every cheese platter recipe, don't forget to add a bunch of crackers or a few slices of freshly baked bread for your guests to balance the lot.
For a group of 4, our suggested amounts are:
250g of Greek Pine Tree Honey
2 bottles of Tenuta San Guido Sassicaia 2011
1 kilogram Sangiovese Grapes
250 grams of nuts of your choice
1 stone-baked bread or 600 grams of cheese crackers
And last but not least, you can add any of your favourite goods that your guests will appreciate. Such as dried fruit, fresh fruit (strawberries, berries), vegetables (carrots, cucumber, celery), jams, confiture, meat (prosciutto, salami). The more vibrant the colours of your board are, the better.
Honey – Our Selection
Acacia Honey
Mono-flower honey of the acacia tree. When the acacia forests blossom, one can witness an amazing combination of white and green colours.
Acacia Honey is Gluten Free which makes sit perfect for whoever suffers from celiac disease. * (always double-check with your GP before consuming )
Rich in potassium, fluorine, calcium, sodium and phosphorus acacia honey is a great natural energizer. Light in taste and with a smooth texture its is ideal for everyday consumption. Perfect with your toasties at breakfast or in your afternoon teas. Acacia honey is also advised with your summer smoothies as it is very sweet while not taking over your favourite fruit and veggies taste.
Acacia Honey is an ideal combination for Raw honey with wine and cheese platers. In particular we suggest the combination of
Raw Acacia honey with Provolone cheese and Cabernet Sauvignon wine
Raw Acacia honey with Provolone cheese and Barbera wine
Raw Acacia honey with Gorgonzola cheese and Riesling wine
Raw Acacia honey with Pecorino Romano and a Cannonau wine
Pine Tree Honey
It is a symbol of Greece as it represents 60% of its honey production. Rich in proteins – almost 10g per 100g of honey-, dark in colour, with a very dominant taste it has antiseptic, antibacterial and anti-inflammatory properties;
As it has a heavy body these are our suggested combinations:
Raw Pine tree honey with Provolone cheese and Shiraz wine
Raw Pine tree honey with Goat cheese and Sassicaia wine
Raw Pine honey with Gorgonzola cheese and Tignanello – Marchesi Antinori wine
Lavender Blossom Honey
A very perfumed and sweet honey not very suitable for green tea but definitely a great combination with camomile. There is a very big difference between Lavender Blossom Honey or Real Lavender Honey and Infused Lavender Honey.
Lavender Blossom Honey is produced by bees collecting the nectar of Lavender flowers from the field itself. The bees normally should be placed in the middle of the fields with no other flowers present which is very rare and difficult to do.
Infused Lavender honey is made by taking different honey and placing actual flowers of lavender in the honey. The whole then gets heated in order for the smell and the aromas to blend and subsequently the plant is taken away. Infuses are quite popular but often misleading are "The Real Thing".
Raw Lavender honey with Goat cheese and Black Pino wine
Raw Lavender honey with Dutch Gouda cheese and Riesling wine
Raw Lavender honey with cheese and a Moscato D'asti wine
Cheese – Our Selection
Gorgonzola
Before going into the details of the taste and texture an advice: DO NOT EAT THE PEEL! Some sources state that the peel is edible. The problem is that vast majority is NOT.
Gorgonzola is one of the super favourites and it is thought to have first been produced in a village near Milan towards the end of the 9'th century AD.
In 1996 it receives the DOP or – Denominzaione di Origine Controllata – in English – Controlled Origin Denomination – which ensures its quality.
Like honey it is very rich in vitamin B1,B2,B6,B12 and Proteins but it is also very rich in Phosphorus, Potassium, Calcium and Vitamin PP
Pairings:
Raw Acacia Honey and Riesling
Raw Acacia Honey and Malvasia Secca
Raw Acacia Honey and Sangiovese fi Romagna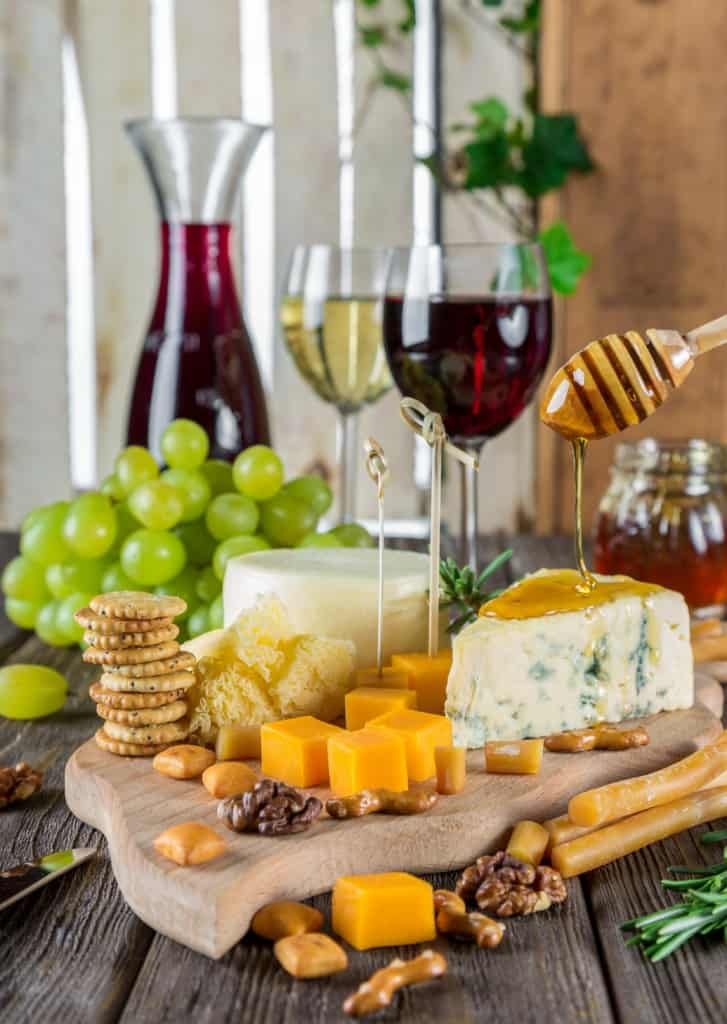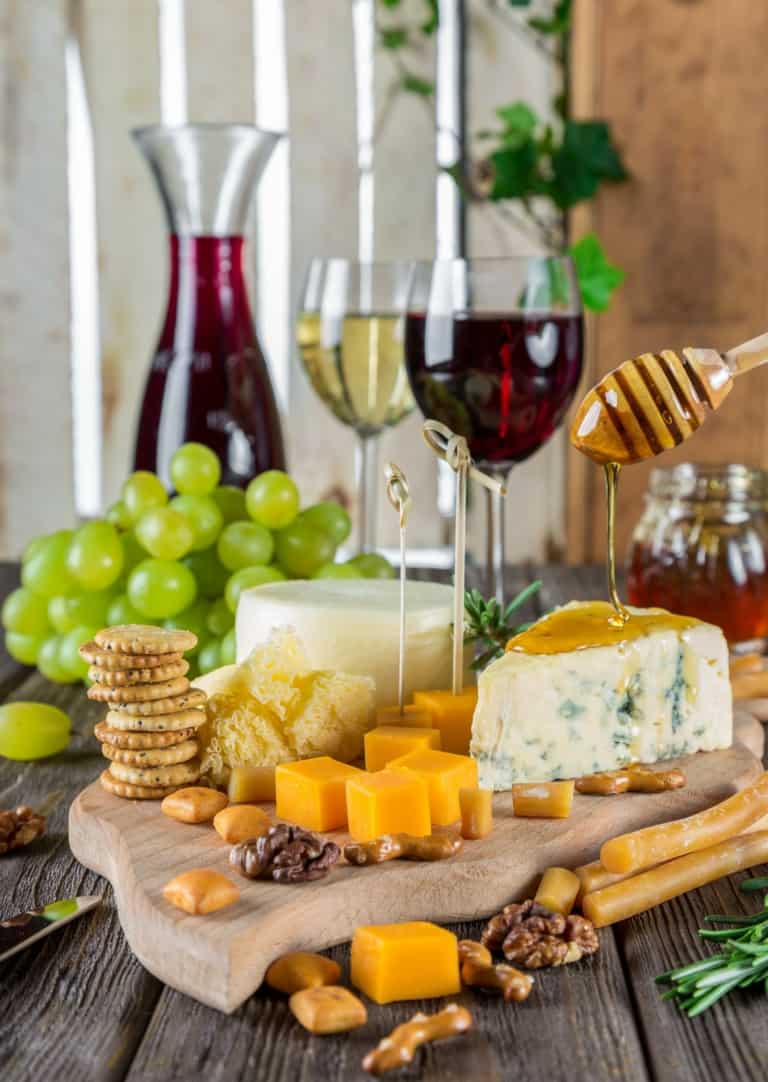 Provolone
Provolone cheese is one of our favourites since it is a perfect pairing for Raw Acacia Honey. The name derives from the Napolitan (Italian name for "coming from Naples"). It is a cheese aged on average 4 months before commercialisation. Provolone can be found in 2 varieties: smoked and plain. When considering alternative honey and wine pairings always remember that it is a semi-hard cheese and it is either sweet or sharp – based on variants purchased.
Parmesan – " Parmigiano "
Hard Italian cheese, produced from cow milk and generally aged 12 months. The " Parmigiano " can also be aged 24 months and up to 36 for the "Stravecchio" variant. The cheese is produced between the Province of Parma and Reggio Emilia from where the cheese takes its name: Parma-Reggio or Parma-Reggiano. When purchasing this cheese you should always read the label as there are many similar denominated products. The Parmigiano-Reggiano should have also specified on the label the letters PDO – protected destination of origin- or DOP- Denominazione di origine controllata.
Pecorino Romano
While Parmigiano Reggiano is made from cow milk, Pecorino Romano is made from sheep milk. In fact the name Pecorino comes from the Italian Pecora or sheep. It is a salty hard cheese often used in dishes like Carbonara but it is also very tasty to eat by itself as it leaves a pleasant retro-taste of salt, cheese fat and pepper. This particular form of cheese is very old- over 2000 years old- and it was used to feed Roman Legions and it could last for many months.
Stilton Blu
Typical cheese of the Derbyshire, Leicestershire and Nottinghamshire regions. In fact, the Stilton Blu has received from the European Commission, the PDO – Protected Designation of Origin -. It is not to be confused with the Oxford Blue and the Shropshire Blu though they are similar. It can sometimes be mistaken with Gorgonzola due to its bluish veins. It is a creamy cheese with a minimum age of 9 weeks.
Camembert
Very soft cheese produced in Northern France from cow milk. Very popular world wide having received its PDO in 1992. It can often be confused with Brie but differs in shape, taste and flavor.
Wines and Grapes – Our Favourites
Riesling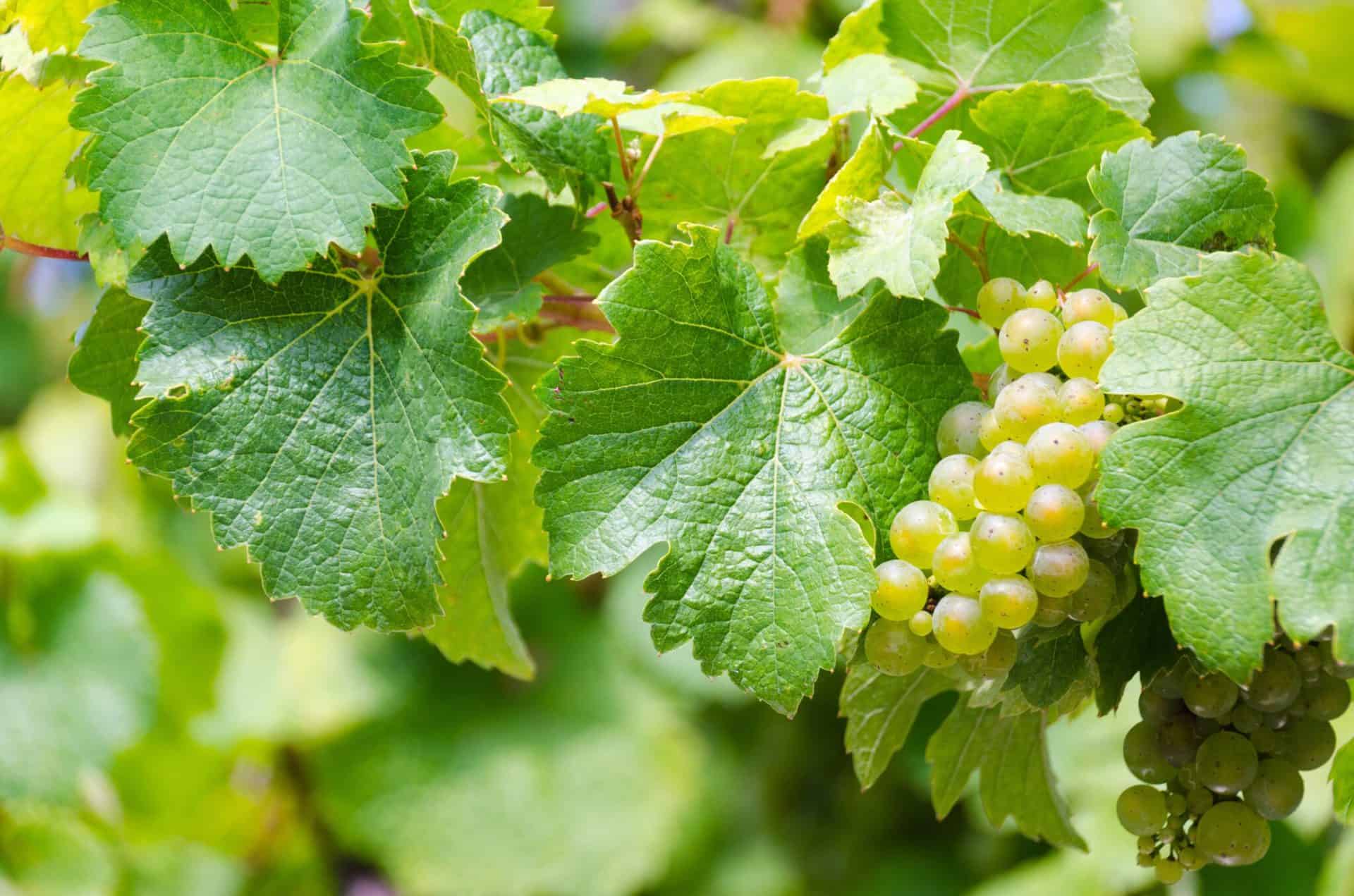 Aromatic and delicate, it produces white wines which are very scented with aromas of honey, lime and flowers. It is one of the "Noble German Grapes" but also representative of Alsace.
Sangiovese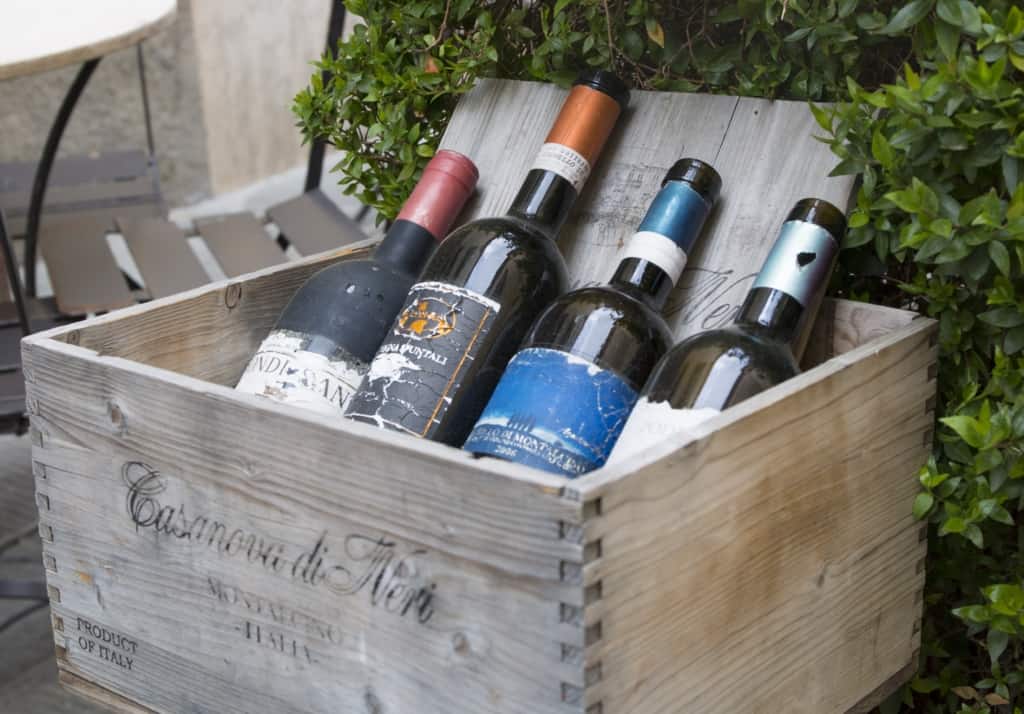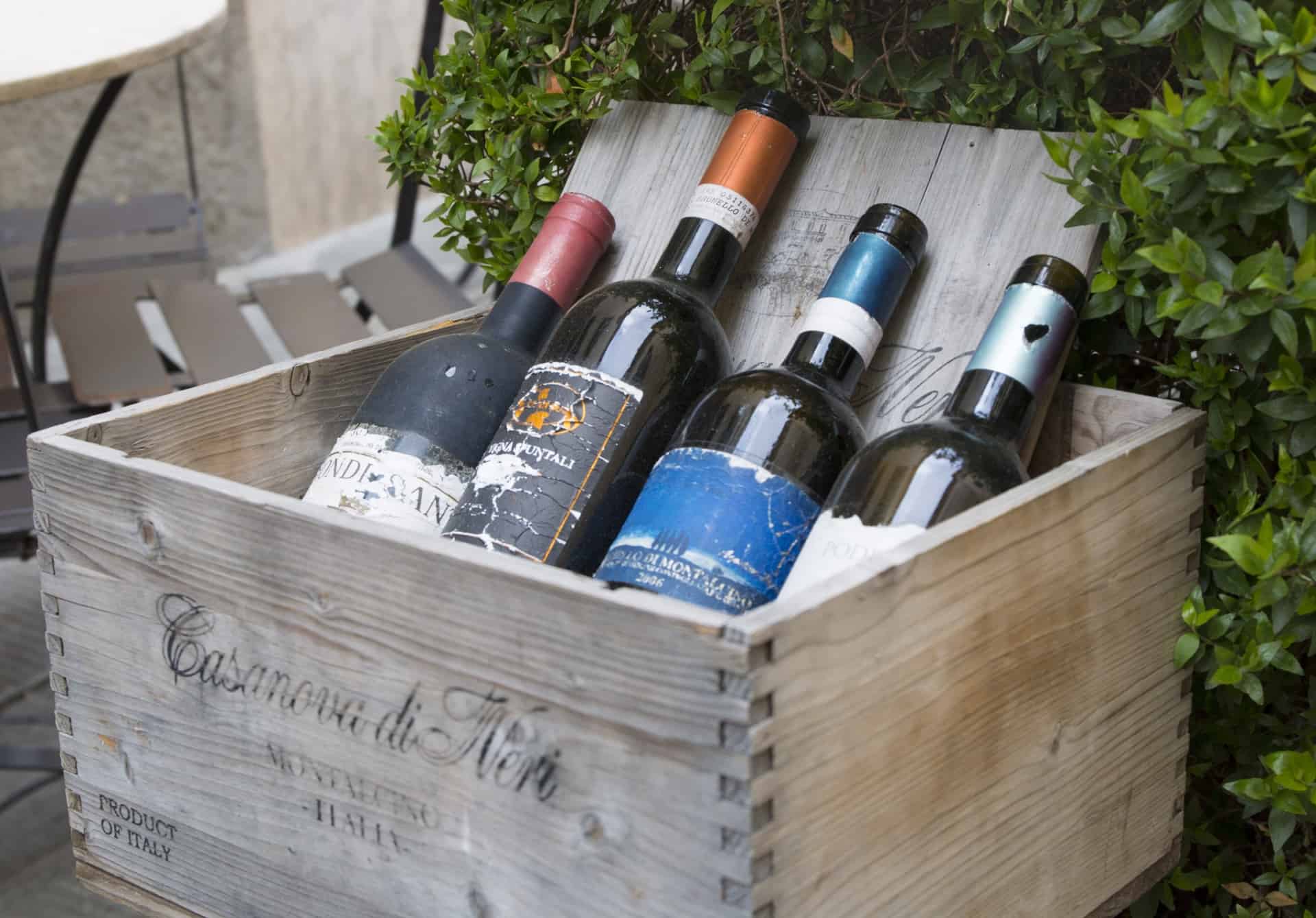 Savoury, lively and variable, it is the most common Italian Grape. Its vineyards cover more than 11% of the Italian plantations.
Many have probably heard of the famous DOCG Brunello Di Montalcino but unfortunately not many know that is made 100% with Sangiovese Grapes which are also one of the most common grapes used for one of the most popular wines: the Chianti Classico.
Barbera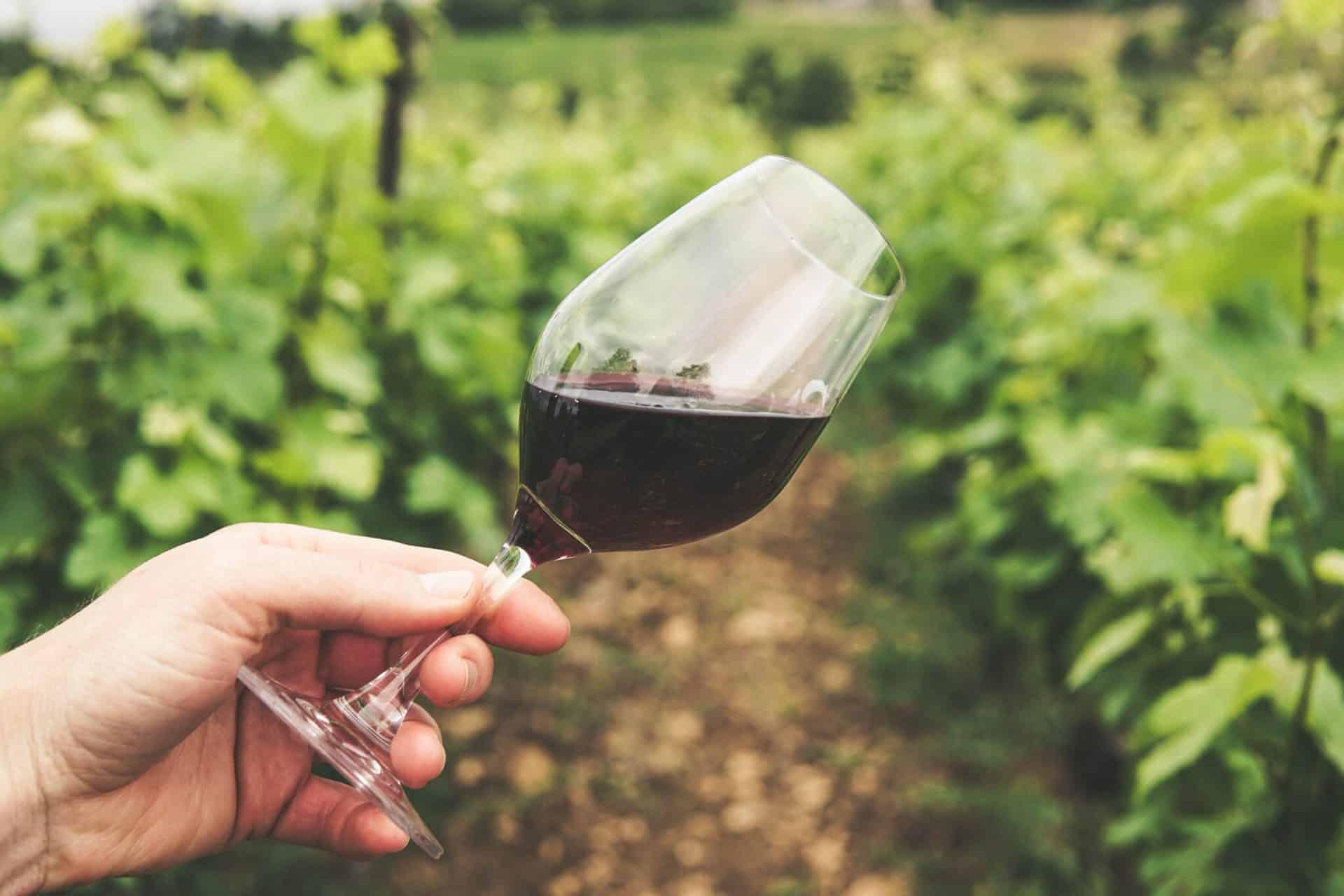 One of Piemonte's typical grapes. It is a young and effervescent wine that truly enhances the flavour of acacia honey and smoked provolone cheese.
Sauvignon Cabernet
Red wine grape often blended with Merlot and Cabernet Franc.
Dense and dark makes amazing full body wines and due to its acidity, it is perfect for ageing.
Champagne Chardonnay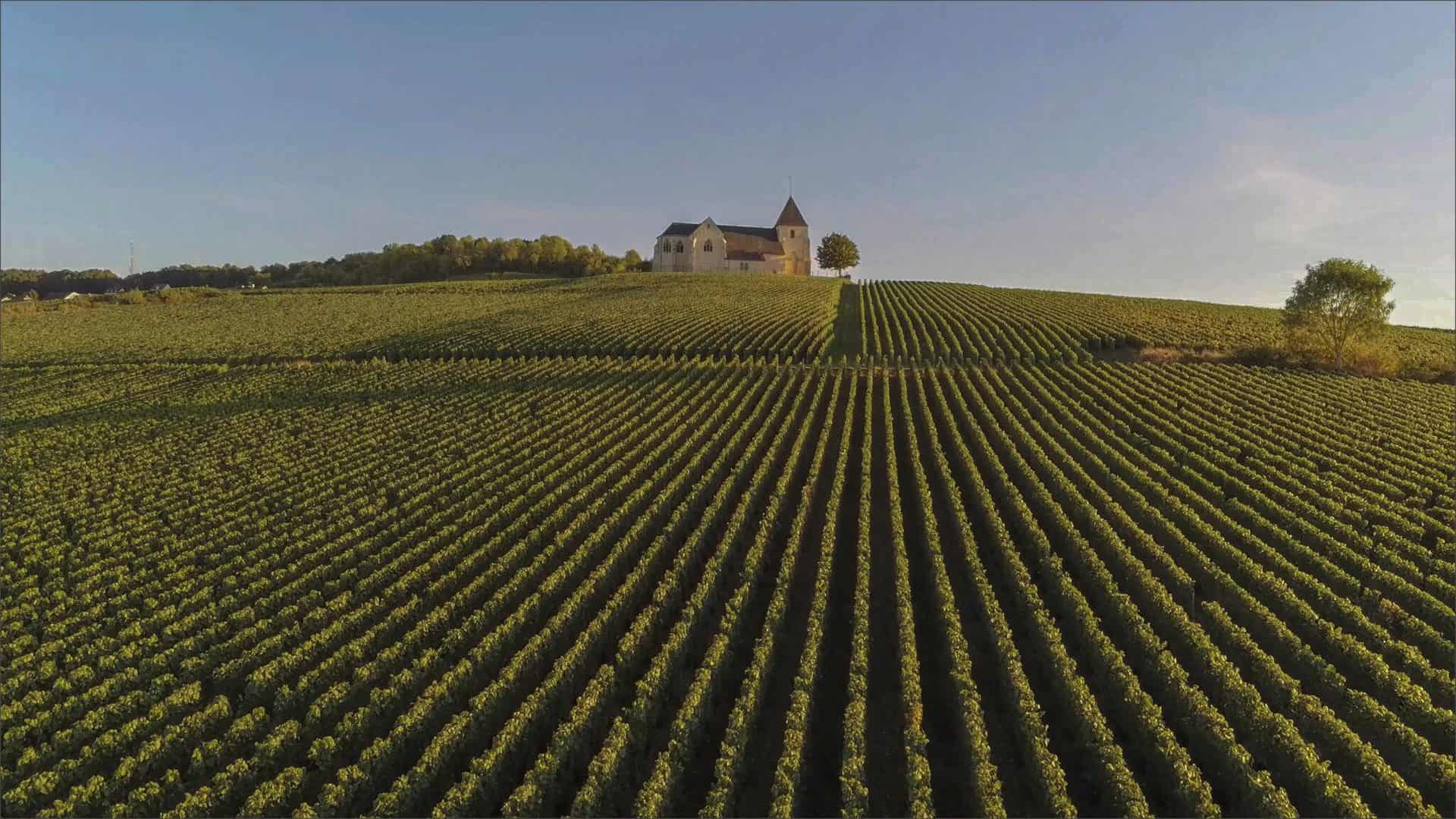 Dry, non-aromatic white wine grape with high acidity which makes it perfect for sparkling wines all over the world. Most popular is its use for Champagne
Shiraz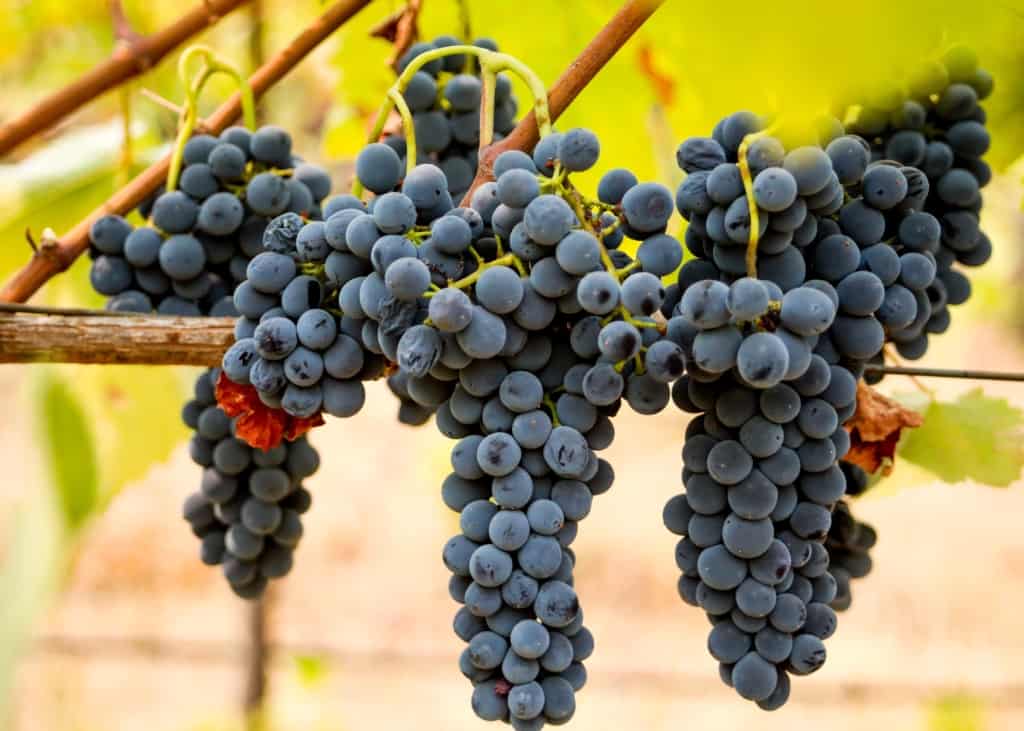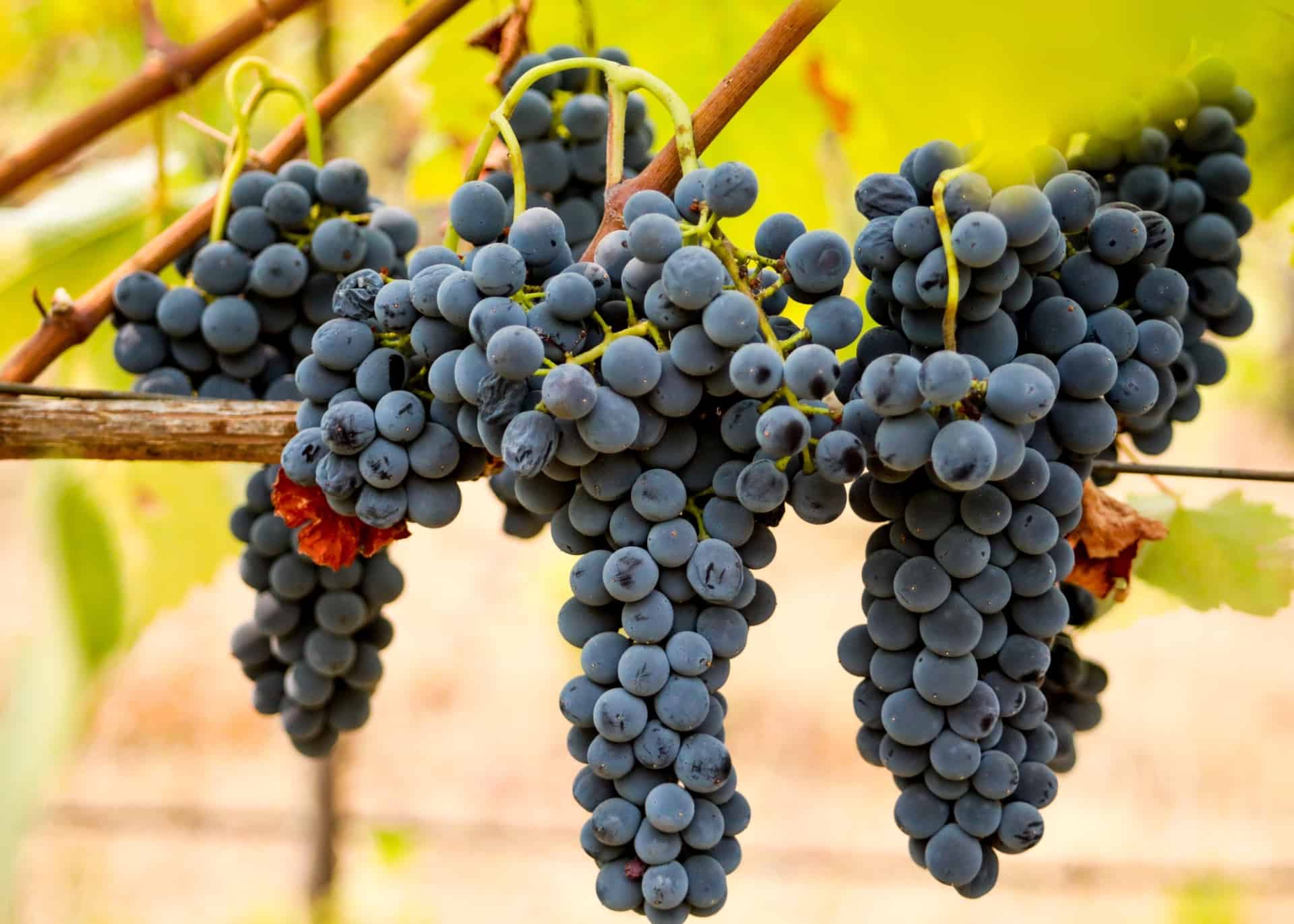 Also known as syrah is a very dark grape originating in southern France. High acidity, very dense and with a very flavoured aroma it is well known in wines like Tellus, Le Pupille and Penfolds St Henri.
Grenache and Cannonau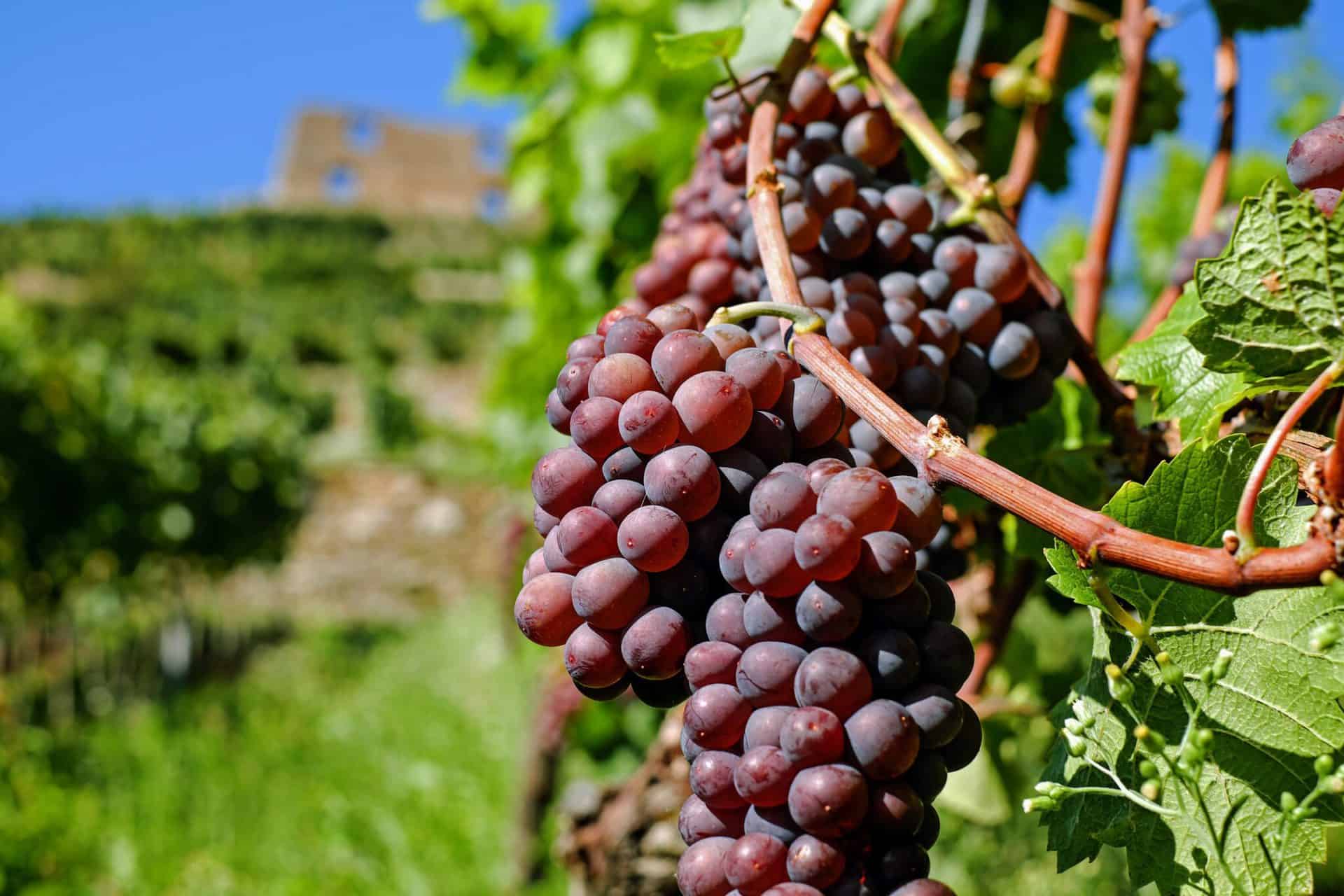 Most planted variety of red wine grape. The Cannonau is produced from a late-ripening grape. it is fruity and it has a soft acidity.
Tasting and appreciating the wine
With Italy and France being the biggest wine producers in the world it is interesting to have a look at the historical evolution of vineyards in these two countries and what are the main differences between their products.
Apparently, it was Greeks who first industrialized wine in Sicily and Southern Italy. The Romans, years later expanded this industry to all corners of the empire. The wine was sacred to the Greeks and so it became sacred to Romans. Historians have managed to find so many texts about wine that they were able to recreate the industrial expansion of it. A very interesting fact was its conservation. Romans used clay amphoras, while Gaul's used wood barrels as the wine would be kept better over time. It is quite remarkable that Italians drink wine just like they did back then: young, sharp or strong; while the French still prefers aged wine.
When we pour a little wine in a glass we can already understand much about it. Firstly we need to have a look at its colour. If it is cloudy and of non-transparent colour, it might be an indication of a fault.
"The Glossier the colour and the more subtly shaded its different colour gradations, the better the wine"

Extract from Hugh Johnson and Francis Robinson, The World Atlas of Wine
Smell it; we can understand its aroma and acidity from the first try but it is not enough. We have to agitate the content of the glass in order to allow the more mature wine to release its aromas. If the aroma doesn't change it means the wine is quite young.