Raw Honey - Just How Bees Made It
Welcome to HoneyBee & co!
Our honey is gathered from the most beautiful and natural places - the Transilvanian Acacia forests. We never use machines to filter our honey. This means that it stays raw and packed with nutrients, just the way nature intended. We are a small company, family-owned and we are passionate about helping the UK and European bee population grow by supporting small beekeepers. Our sustainable and eco-friendly practices help us achieve this goal, and we are proud to be plastic-free. Come explore our world.
Amazing service, quick delivery, gorgeous packaging, and delicious taste!! Couldn't recommend enough

Il miele ha un sapore particolare, molto profumato, veramente buono! Da provare con i formaggi stagionati o nella preparazione del

...

tiramisù. In cucina come sostituto dello zucchero e molto versatile. Grazie HoneyBee & co!

read more

This honey is the good stuff, fragrant and delicious! The packaging looks really nice too, perfect to display in your kitchen 😄.

...

Love it!

read more

I received the honey today 21/5/22 . The honey is absolutely deliciousand I strongly recommend it. I will certainly be purchasing it again.

Honey is very delicious and tastes great! Smooth delivery.

Sabor intenso! Difícil encontrar miel de tan buena calidad!

I keep buying it. Perfect as always.

Absolutely love this product! It tastes amazing and I consume it on a daily basis! Would definitely recommend and order more!

Beautiful tasting honey. Very pleased.

Excellent customer service and a fine honey!

The honey is very delicious. This is how a real honey should taste like. I've tried a few different ones, cheap and expensive, various

...

types from the UK supermarkets - none of them gets to this level. I strongly recommend, worth the money! The delivery was fast as well, considering I ordered standard one, and it came in such a nice wrap, you can even make it as a gift to someone.

read more

Nice honey. Good service. I use it for breakfast with milk and bread!

Amazing products. Great customer service. Great quality and beautiful packaging (all recyclable!). Definitely coming back.

I know that honey is very healthy and I use it in tea, coffee and a bit in dry red wine. I have had it for long time especially acacia

...

honey wich is very good for kipping lungs healthy.I was impressed when I saw it's a romanian product, as I am from Romania.Good to boost my immunity.Thank you very much.Stelian

read more

Amazing taste delivered in a very nice packaging. I would love to see some gift boxes! 🙂

Great honey! Smooth delivery, and very friendly customer service! Highly recommended!

Amazing company, gorgeous honey 😍

Fantastic product, beautifully wrapped with care and attention.

Great taste and quality. 👍

Glad I finally found an amazing quality honey !


The product and service was simply amazing. After trying the honey from HoneyBee & Co, I have a new appreciation for what real honey is

...

about. The sustainable packaging is another plus which makes this product so much more special than what you get at the supermarket. Thank you so much!

read more

Absolutely love this brand and their honey! The best honey I've had in years! Great flavour of a real, natural honey! Also love the eco

...

friendly packaging 💛

read more

The acacia honey is wonderful. Absolute treat!

Amazing honey, delicious and with an incredible aroma. Reordered again - delivery is always so fast too! Best Honey I've had in years - seriously good 😀 Amazing honey! Real raw honey.Great communication with the company! They only have Acacia Honey! I hope they will bring more types soon. Get Our Best Honey All Year Round
Save 20% when you subscribe today!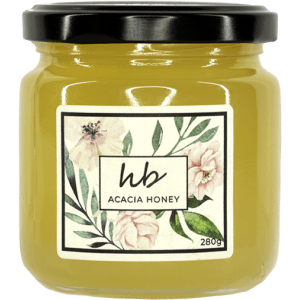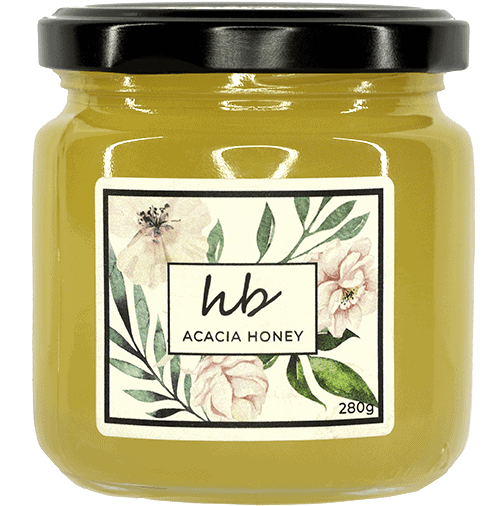 Raw Acacia Honey contains many beneficial elements including up to 415 different enzymes and vitamins.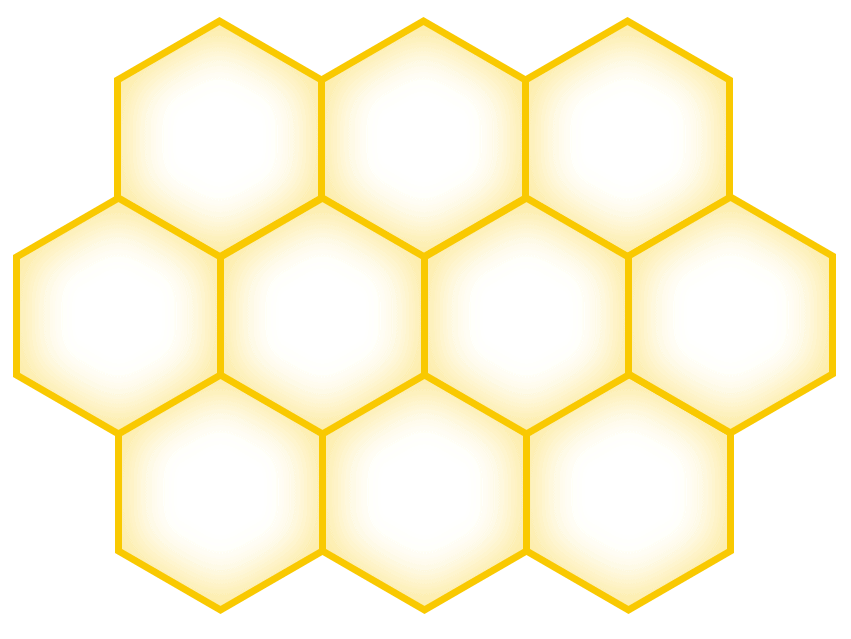 C
C
K
K
13%-19% Water
13-19 Water
Folic Acid
Folic Acid
B2
B2
B6
B6
+407 Others
+407 Others
B1
B1
B3
B3
E
E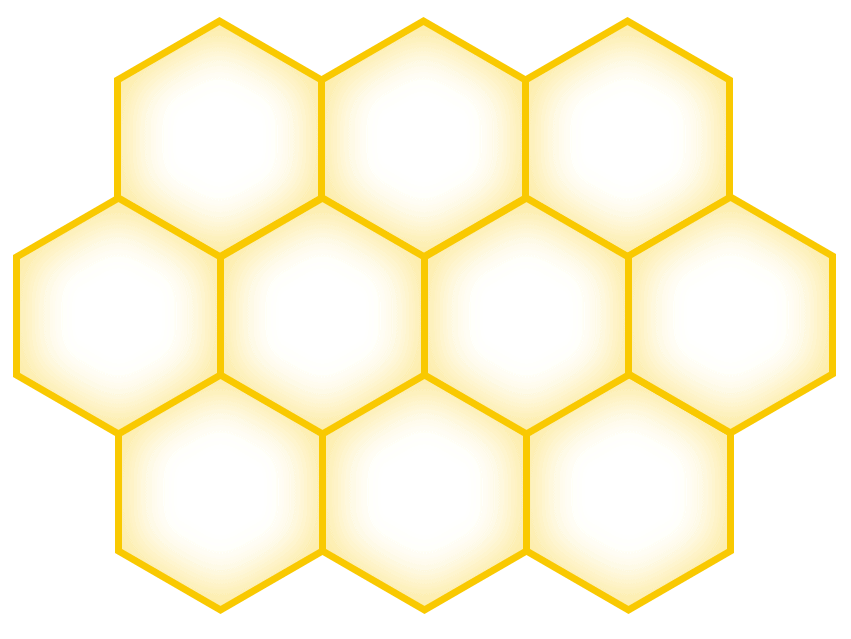 C
C
K
K
13%-19% Water
13-19 Water
Folic Acid
Folic Acid
B2
B2
B6
B6
+407 Others
+407 Others
B1
B1
B3
B3
E
E
Acacia is one of the few honeys that takes more than a year to crystallize as the nectar of the acacia flower is jam packed with natural fructose. Perfect for adding light, floral sweetness to teas, sumptuously spread over bread or generously poured into porridge.
Honey Bee & co Acacia Honey Lot 1
Diastase = 13.9%
The honey-own enzyme "Diastase" (scientifically it concerns an α-Amylase) is a marker for the authenticity of honey and represents an important quality parameter.
Accordingly, the diastase number (DN) is legally regulated according to the Schade scale (EU regulation 2001/110/EG, Codex Alimentarius).
For honey with exception of baker's honey / industrial honey a minimum activity of 8 DN (Schade scale) is fixed.
Moisture content = 18,44% 
It is internationally recognized that good quality honey should be processed at less than 20% water content.  Low water content is desirable because honey may begin to ferment and lose its fresh quality if the water-in-honey is greater than 20%
UK Law - Moisture content—  (a)all honey except for honey specified in paragraph (b), (c) or (d) not more than 20%.
1% Minerals, Vitamins, Enzymes
6% Trisaccharide & Other Carbohydrates


Up to 35% Blend of EU & Non EU Honeys
Potentially containing pesticides & antibiotics
Up to 35% High Fructose Corn Syrup
No. HoneyBee & co Honey is Raw Honey. Exactly how bees have made it.
No. HoneyBee & co Honey is produced in pure and uncontaminated natural areas and our bees are not treated with antibiotics.
Our Acacia Honey contains an Optimal water percentage between 15% and 19%. Cheap supermarket honey can have up to 50% water. This is due to either beekeeper feeding bees water with artificial sugar or they collect the honey to quickly to increase profit margins.
Nectar is a liquid secretion of flowers that bees gather. They then take out much of its water content and after adding several enzymes they produce the golden substance we call honey.
Consuming honey rather than sugar has obvious advantages. The supply to the body of energy in the form of glucose and fructose, simple sugars that do not require any digestive process. Honey also contains Vitamins and other useful enzymes.
Raw Honey is a product with many calories; approximately 320 kcal for 100g. Moderation is the key if one has a particular diet. The positive fact about honey is its sweetness. One teaspoon of honey weighs about 7gand its more than enough to sweeten your favourite cup of tea.
Raw Honey is safe and it provides many health benefits, nevertheless, it should not be cooked raw over 40 degrees. When cooked, honey becomes similar to glue and thus produces toxins. Honey's raw form is the one detaining all its main benefits and properties. By altering its chemical composition by heating or overheating the honey It may completely change its compounds leading to health hazards. Honey also contains bacteria that can harm a young baby's intestine. To this end avoid giving honey to babies under 12 months old.
Our bees are from the Apis Mellifera from the Apidae family.
Our honey is produced on the European Continent. Our long-term goal is to partner with small beekeepers from all over the UK and Europe providing our customers with quality honey while helping increase the European bee population.
Acacia Honey Stimulates digestion cleans the liver, regulates intestinal transit. Improves heart activity and circulatory system. Helps to restore the body after effort. Stimulates the immune system. The number of red blood cells increases.
Honey is a healthier alternative to sugar, especially for diabetics. It has antioxidants that help reduce the risk of heart attacks, strokes, and some types of cancer. It lowers blood pressure and improves cholesterol values. Honey is great for healing wounds and burns.
Honey is a great solution for coughs both for children and adults.
Interesting news, commentary, lifestyle, and all things Bees - have you got the buzz?